Testimonials
Rob performed nothing short of a miracle in transforming the cracked and water-damaged walls and ceiling of our dining room and hallway into glowing flawless surfaces. It was much more than a paint job; it was major reconstructive surgery that left straight clean lines with not a hint of the ragged and uneven mess that we started out with. He was patient and helpful throughout the whole process, from initial color selection to the final trim work. His thoroughness and attention to detail was beyond compare, and the final result a true masterpiece.
We are extremely pleased with our new living room. Rob was so helpful through every step of the process. He helped us narrow down the colors we wanted and offered suggestions about wall repairs and textures. We found his work to be very thorough. He was prompt, polite and pleasant to have in our home for the duration of the project. His attention to detail extended beyond putting paint on the wall including preparation and clean up each day. We highly recommend Rob for any painting projects.
I needed a painter that was very detail oriented yet would be mindful of the families we are serving. We take a lot of pride in being a Home Away From Home for families who have to travel from outside of the area so their child can receive medical care at a local hospital. The House has to be perfect and I learned the hard way that painting is an art and it isn't just throwing paint up on the walls. Rob was so detailed he was like an artist working on a canvas creating a masterpiece and he did this with such little disruption that families barely even noticed he was there. No question in my mind that I will be hiring Spruce Painting for all my painting in the future.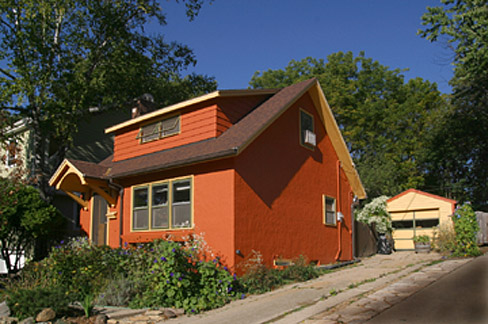 Rob Maveus helped me make quite a statement for our street when he suggested the bold colors on my 1928 stucco one-and-a-half story house. I labored over the color choice, but he was supportive and considerate and an excellent guide. His color sense is impeccable. He is an artist not only on the small canvas but also on the larger palette of exteriors and interiors of homes. He worked with me staining and finishing the woodwork in my new addition, and I can truly say he is a perfectionist whose advice is tempered by many years of experience.
I am especially impressed with the extensive prep work he does before even considering putting a dab of paint on the surface. Every seam and tiny crevice was filled carefully on my stucco exterior before he even started the primer coat. I highly recommend Rob and Spruce Painting!
Spruce Painting did a remarkable job in painting the interior of our home recently. We took the plunge into introducing vibrant colors into our older home and Rob Maveus patiently helped me select the complementary tones that would breathe life into a previously tired, starkly white environment. Neighbors, friends and others have marveled at the final product and want to know how they can achieve the same. In addition, Maveus' focus on professionalism and commitment to excellence is constant and his example extends to his crew. Despite my mounting requests for additional work during their time here, Spruce Painting was committed to providing the service needed to make sure my expectations were met and exceeded. I recommend Spruce Painting without qualification.
One of my primary concerns was finding a painter who was dependable and honest. I was most impressed with Rob Maveus' thoroughness from start to finish. The work was neat and precise and I was pleasantly surprised with the degree of detail and care taken. I also appreciated the help in choosing a pleasing color scheme. If I need any painting done in the future, I will contact Rob Maveus.
On behalf of the Historical Advisory Board, I would like to thank you for the excellent work you did to preserve and restore the fine Victorian commercial building in the City of Alameda, California. Your extra effort to preserve the Golden Bridge beverage sign painted on the side of the building is especially appreciated. Your willingness to incur extra trouble and expense has, at the very least, given the community the opportunity to enjoy this very unique illustration.
Robert Maveus Painting did a fantastic job on the exterior of my house. They changed it from a worn and peeled eyesore to a "designer" house - easily the best looking house on the block! Rob Maveus was exceptionally skilled at selecting the best colors and their placement. I don't believe I could have found a better contractor. He was easy to work with and I enjoyed his personable manner and professionalism.
Our large, craftsman-style house required a lot of preparation (cleaning, scrubbing, scraping, sanding, caulking, etc) before painting. Rob Maveus spent huge effort in the preparation. His attention to detail can only be described as extraordinary. Maveus and his crew worked through the weekends to get the job done in a professional and timely manner. Not only was the quality of the paint job excellent, but Maveus was very helpful in helping us select colors. He was clearly concerned that the job have an aesthetic as well as a long lasting quality.
Rob Maveus and his crew were the most professional group of painters I have had the pleasure of working with. Like many people, we put off painting our home until we were about to sell it. With the pressure of the Spring house buying season rapidly approaching, we began our search for a contractor that could not only meet our time commitment, but also do the necessary preparation work that would restore our home to its original appearance. Mr. Maveus met and exceeded all our expectations. His attention to detail and his professional business approach established his company as a premier painting company -- not only in my opinion but that of our neighbors.
We are writing to express our appreciation to you for the work you have done on our house. We are impressed and immensely pleased that you followed through so promptly and so thoroughly. You have our gratitude. You and your crew were careful, efficient and were considerate at all times. You took the time to explain things thoroughly and to search for the best solutions. The work you have done is highly professional. It has been a pleasure to work with you.
I highly recommend Robert Maveus Painting for all interior and exterior painting. I have nothing but praise for the quality of work. One of the best features of hiring Robert Maveus Painting is that you never have to be concerned about dealing with clean-up work. Without fail, a totally clean job-site has been left at the end of each day as well as at job completion. When Robert Maveus Painting is contracted you can rely upon the fact that the work will be of the highest professional quality.